Q&A with Forrest McCurren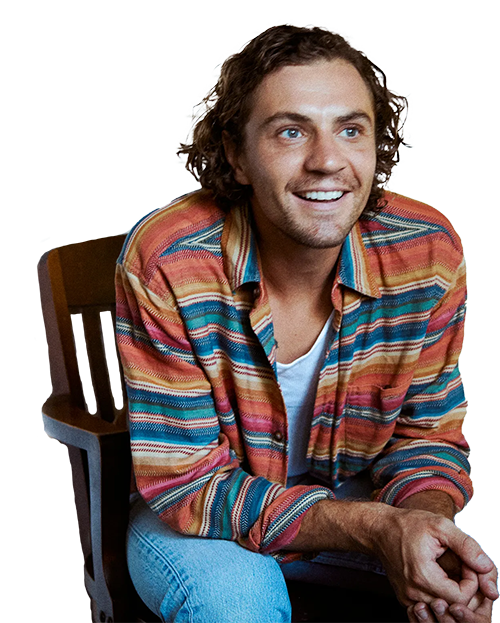 Question: This is a big step for you as an artist. What was your favorite part of the process?

It all felt very lucky. From connecting with Wes Sharon, to the 4 days we spent in Oklahoma, to the players that were willing to throw down on the songs, there was never any hesitation or too much overthinking, it all felt free and easy. I brought the songs, and the crew kept the wheels turning. I think for me, learning that I don't have red light syndrome (nervousness when trying to record a song) was a huge relief. I was in the ring with some serious, heavy-hitting, full-time touring and recording musicians, but I'm scrappy and know what I do and how I do it. It was good to feel good in my own skin.

Question: So many of your songs seem to be about where you're from and the people in your life. Expand on that a little, if you would.

I lean on the old adage, write what you know. I come from the heart of the heartland, the magical middle of Missouri. It's a crossroads not just in our state but in the country and the folks that live there have always felt familiar and funky. It's a place surrounded by beautiful nature, rolling hills, big rivers, tall bluffs, and fertile farms. It also has the Capitol (Jefferson City) and the University of Missouri in Columbia, so I think you get a good mix of what makes up the country's middle. I'm also the product of a soulful family filled with characters. My mom always says, "We're not quite right, but that doesn't mean we're wrong." They know how to work hard but also kick back, smell the flowers, enjoy good music, and tell wild stories.

Question: You guys are road warriors! We've seen your tour schedule, and it's crazy. Kansas, Missouri, Illinois, Iowa, Oklahoma, and Louisiana, just in the past couple of months. What's the weirdest thing that's happened on the road?

This country and the people and places that make it are full of weird and wonderful things. There are a few stories that come to mind: a strange lady named Jasmine in Tulsa that turns out really could see the future, 2am White Castle in Indianapolis, and the many hats and sunglasses that have been bought and lost.

Question: You most often share the stage with your wife, who you met at William Jewell College in Liberty, Mo. What are the joys and challenges of being married to a band member?

The joy is that she's the most capable and kind person I've ever met. Before a run up to Iowa and Illinois in March, she built a platform in our van that allowed us to sleep up top and store bags and gear below. That first night we played in Muscatine, Iowa; we drove up the road a bit and slept right next to the Mississippi River. My Huckleberry-Finn-Dream come true. Margaret also runs sound, cuts my hair, and generally makes sure I'm not acting the fool. She's my best friend. I don't know how much of a road warrior I'd be without her by my side. The challenge is that I don't like to sleep, and she's a sane person, so I'm working to readjust my clock.

Question: Based in KC, you play all over the area. Where can folks find your music online, and where are some local places they can catch you live this summer?

The website is home for all things music and random musings. Margaret did a stellar job creating it, and we're making it shine more and more every week. We're getting ready to launch our first newsletter, which folks can subscribe to on the home page: www.forrestmccurren.com. As of May 22 we have our single, Little Rock, on all streaming platforms! A true technological triumph for the least savvy computer user to ever be born in the 90s. Our next single will hit the web waves on June 24! Our record will be released in full on streaming platforms on August 19, just a couple days after my mom's birthday. But, folks can snag a special something at live shows if they catch us out and about (wink, wink). Also, we have a YouTube channel with a music video for Little Rock that we made with the dynamic duo of Brett Jackson and Aaron Lawrence. They run a marketing agency called Intrepid Creative and allowed Margaret and me to run wild around Missouri with no plan except to have a good day. If you dig trains, rivers, cool old trucks, and fireworks, I encourage you to check it out. We also have some quality live videos on the YouTube channel and have some projects coming down the pipe!