Dave Eggers and The Circle
By Shannon Bond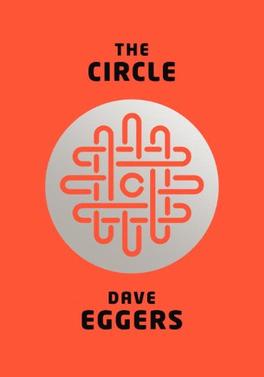 "My God, Mae thought. It's heaven." The opening line in The Circle reflects not only the impact of the campus and company but sets the tone for the book's forward momentum. In this reality, the world is on the brink of a dystopian future (or utopian in the eyes of the Circle's founders) where every need is met by the caretaking company. As always, the line between dystopia and utopia is thin. Since one must typically sacrifice something valuable for the safety and security of utopia, that sacrifice's value is the variable. In this case, one must surrender privacy in every aspect of life, opening one's self to not only the controlling corporation but the masses. This leads to modified behavior, which can be seen as a form of control applied by those masses and subtly manipulating corporate powers. After all, corporations control the digital platforms and software behind the masses' ability to maintain this transparency, which naturally puts them in a position to influence.
The Story
(spoiler alert)
The Circle was written and published by Dave Eggers in 2013. It not only deals with the loss of privacy, but individual will, and identity. The Circle corporation has overrun the internet and now seeks to create its utopia. It has consolidated every platform into a single interface, offering users a single resource for all transactions. Users worldwide have become dependent on the Circle for shopping, social interactions, information tools, and healthcare.
Mae, the protagonist, comes from a humble background with self-sufficient parents who value personal privacy. Mae is an example of a generation of young people with ambition but little direction, who are digital natives without a sense of the big picture and with little personality or drive outside of life online. The Circle is happy to fill in the blank spaces of Mae's self-identity, character, and personality.
Her friend and former college roommate, Annie, is an executive at the Circle, and urged her to apply for her new job at the Circle. Annie comes from a large, wealthy, historically significant East Coast family. Mae is subconsciously jealous and insecure, which shows the reader that no matter how fast technology advances, humans still retain traditional emotions, thoughts, and character. Through characterization, Eggers reveals the challenges below the surface as technology outpaces humans' ability to cope with values, morals, and ethics in a connected world.
Eggers weaves history and flashback throughout his prose and portrays his characters in a relatable if not likable fashion. In an interview with The Telegraph he explains that as he watched technology advance for several years he had "taken some notes here and there, wondering if there might be a story to tell." It finally came to him that the best way to tell the story of society's path into technological transparency would be through the story of a young person going to work for a tech giant in the process of taking over the internet.
He says that some of the technologies he created for the book were actually invented in real life as he wrote. He explains, "Half a dozen times I thought I'd come up with some service or technology and then found it already existed or was being developed." Eggers chose not to tour technology company campuses, read about them, or interview employees. He did not want to influence his writing or be pulled into daily elements of the real world but instead channel cultural undertones and ramifications.
Even though much of the plot and characterization is obvious, it is nicely planned and skillfully crafted. For example, after an exchange between Annie and Mae where Annie talked about another Circle employee in a marginally judgmental tone, Mae returns to her desk to find eleven messages even though the exchange was only twenty minutes prior. Annie said, "Hey Mae, realizing I shouldn't have gone off on Dan and Alistair that way. Wasn't very nice. Not Circly at all. Pretend I didn't say it." From there, the messages become paranoid and dramatic, with Annie assuming Mae had contacted Dan. This scene craft shows Mae's gradual descent into a digital world that dictates her behavior, while Annie displays the stress caused by the expanding social pressure to be perfect.
Mae works feverishly to interact online and raise her social and personal value through increased social rank, online work ratings, and health status via her fitness tracker. She realizes "in a moment of sudden clarity, that what had always caused her anxiety, or stress, or worry, was not any one force…it was subjective: it was not knowing." Mae is an early adopter of 24/7 camera and audio streaming, proving that only through transparency can people be liberated.
In the end Mae finds herself at Annie's hospital bed after she falls into a coma, allegedly brought on by stress. In college, the over-achieving Annie had devotedly taken care of her after she had broken her jaw. But in Mae's new reality, she is simply annoyed that she doesn't know what is happening inside Annie's mind. She considers private thoughts to be unacceptable and resolves to talk to the Circle's creator about a possible solution.
Dave Eggers
Dave Eggers has established a publishing house and co-founded a network of tutoring centers. He has written for The Guardian and the Washington Post. His work and focus exhibit varied interests and a strong self-actualized personality, dedicated to helping children and teachers find a voice through writing. He has pondered the writing life and describes a particularly invigorating tutoring session with high school students, explaining in a Washington Post article that if, "at the end of it all, there's a Gabby who holds the words to her heart and rides the subway through the night, back to Oakland, thinking of what those words on a page did to her, then the work is worth doing."