Fifty-Five Years of St. Joe Harley with Susie McCreary
By Shannon Bond


Walking into St. Joseph Harley Davidson is like stepping into a second home for motorcycle enthusiasts. The sunlight gleaming off chrome and the subtle smell of leather and oil set the mind at ease as the day's to-do list slips away. And the staff, eager to help, feels like extended family. Strolling through the shop at any given time, one hears conversations about parts, modifications, and the history of engines and different models. Customers and staff lean over the service counter, thumbing through a catalog or looking at a part. Others, surrounded by apparel in the clothing section, describe their last ride while others hover over a new bike. A shiny dream on the showroom floor. For those lucky enough to purchase a brand-new Harley, staff are ready to serve their finance needs in one of the offices along the back wall.

It's easy to immerse oneself in the cultural phenomenon that is Harley. Historical pictures line the wall, and old, long, retired bikes sit on platforms next to framed documents describing their significance. A cruiser here, and a race bike there, ridden by Dewey McCreary or a photograph of Susie, his wife and founding partner, straddling her own Harley Sportster. And, of course, the rows of new bikes lined up in the middle of the floor sit like beacons shrouded in these origin stories. Some, like the Heritage Classic, are a tribute to the past, while others, like the adventure bikes or the new Sportster, blend the contemporary with the classic for a new look.

For Dewey and Susie, the journey with Harley started in 1963. Dewey worked full-time as a mechanic at a Harley dealer in Kansas City. Beyond the wrenching and recreational riding, Dewey's passion was flat track racing, hill climbing, and drag racing, where he set world records. Susie worked at Harley part-time.
"I went to work for a steel company in North Kansas City and got married two years out of high school. Dewey was racing professionally, and the Kansas City Harley dealership offered him a job. I went over there and helped out a couple of times. I was really good with numbers, and the owner wanted to hire me. So, I went to work for them Wednesday, Friday, and Saturday."

By 1969, Dewey had expressed interest in opening their own Harley dealership, and they were offered a franchise. So, at 30 years old, with $3,000 dollars in the bank, two young kids (five-year-old Mick and three-year-old Clay), and a dream, they accepted. Their choices for a franchise were Oklahoma City or St. Joseph. Since St. Joseph was close to home, they took it.

"Figures were just easy for me. When we left there and got our own franchise, I could do the numbers. I relate to them. I just didn't know how to make out a title," Susie explains with a chuckle. "That was Wanda's job, so she hadn't let me do that."

But like all journeys worth taking, the McCrearys didn't find success easily. It took years of hard work and dedication to become the staple business they are today.
"There were only three motorcycles registered to people in St. Joseph when we started," Susie says. Despite the market being wide open, it was a challenge. "At first, we only got 19 motorcycles from Harley per year. It was rough, so we took on Kawasaki, MotoGuzzi, Norton, and Ducati one at a time. It was probably about three or four years before we took on other brands." The McCrearys opened another bike shop next door in the same building and, to help run both, knocked out a wall between them so they could move back and forth. In the early years, Susie ran the books for both shops, and they had a mechanic and salesperson on each side.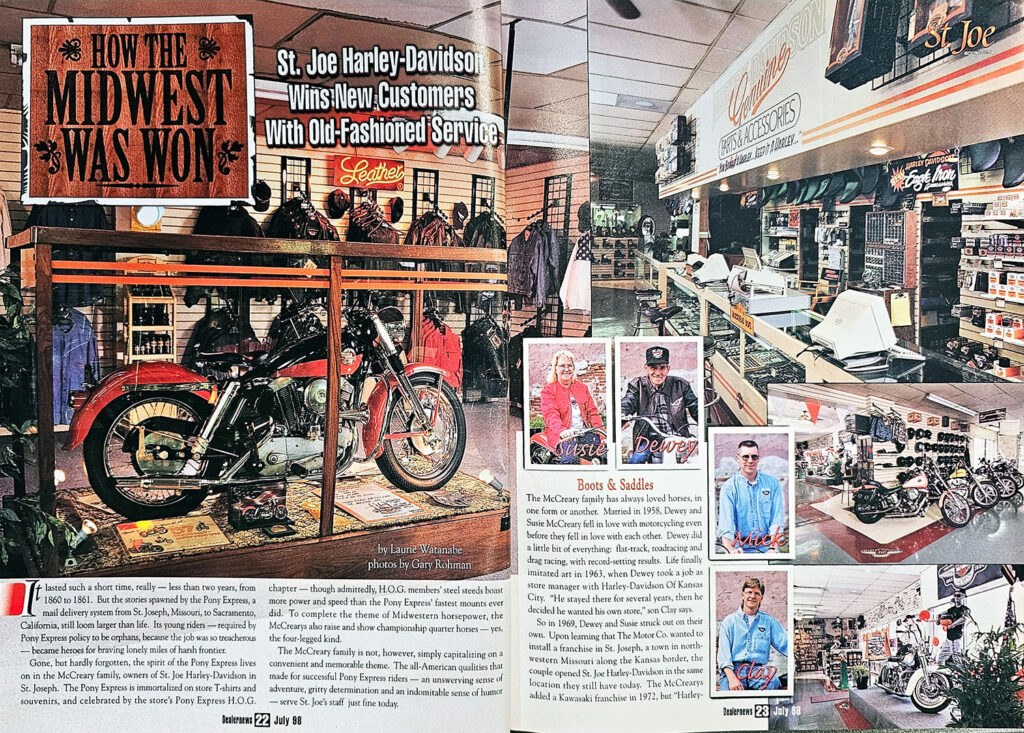 Susie, who is turning 85 in a few weeks, sits at her desk in the dealership she started nearly 55 years ago. She still makes it into the shop a few times each week. Staring down at a magazine with pictures of her and Dewey from the early days, she shares their stories. Dewey would drum up business at local bars, and they organized group rides to get people interested. "I'm sitting at the store, and here comes this guy who worked at Swift, and he wanted to buy this Sportster. 'I'll pay you tomorrow night,' he said, $1,750, and I said 'okay.'" The biggest challenge was figuring out how to do the title paperwork for their first sale. However, bike sales didn't keep them afloat in those early years. "Parts were a big thing, and painting was a big thing. I painted a motorcycle back then for $105 for fenders and tanks, and now they're getting thousands of dollars for them." And while it was hard work and long hours, Susie tells her stories with a smile and certainty that seems to say her life's path has been the right one.

"At six o'clock, when we closed the shop, I put on my paint clothes and went to work. My poor kids were raised in the shop."
Mick, her oldest, remembers those nights well. "While mom worked late nights painting motorcycles growing up, one memory I remember vividly is eating Kentucky Fried Chicken while hanging out at the shop."

Painting the Shriners bikes helped them out a lot, she says. The first order was for red and black with a white stripe. It was easy because she could order paint directly from Harley. Her eyes light up as the stories take her back. "I painted a bike for a guy in Lathrop, Missouri, named Big Tom Huey, and he wanted lace on the side of his motorcycle. So, I painted it a real pretty sparkly orange, and I took tape, and I taped off the side. Then, I laid the lace down over it and sprayed it, and when I took it off, it was the prettiest thing you ever saw. And another guy down here, Bill Schumaker from Faucett, he's still got the tank I painted. He never did put it on his bike, and that's been 40-some years ago. He was in the other day, and he's still got that tank. He says it's too pretty to put on his bike, so he just lets it sit there."

Of all the professional experiences with Harley throughout the last fifty-five years, she says that painting was one of her favorites. "You could paint and get everything off your mind at the same time." It's a creative process she's still happy to dive into, describing the evolution from enamel to other types of paint and the challenges of repairing dents in tanks using filler and her high-temperature booth. But, after 15 years, in 1984, the new evolution motor came out, and they got so busy selling that the painting business fell to the wayside.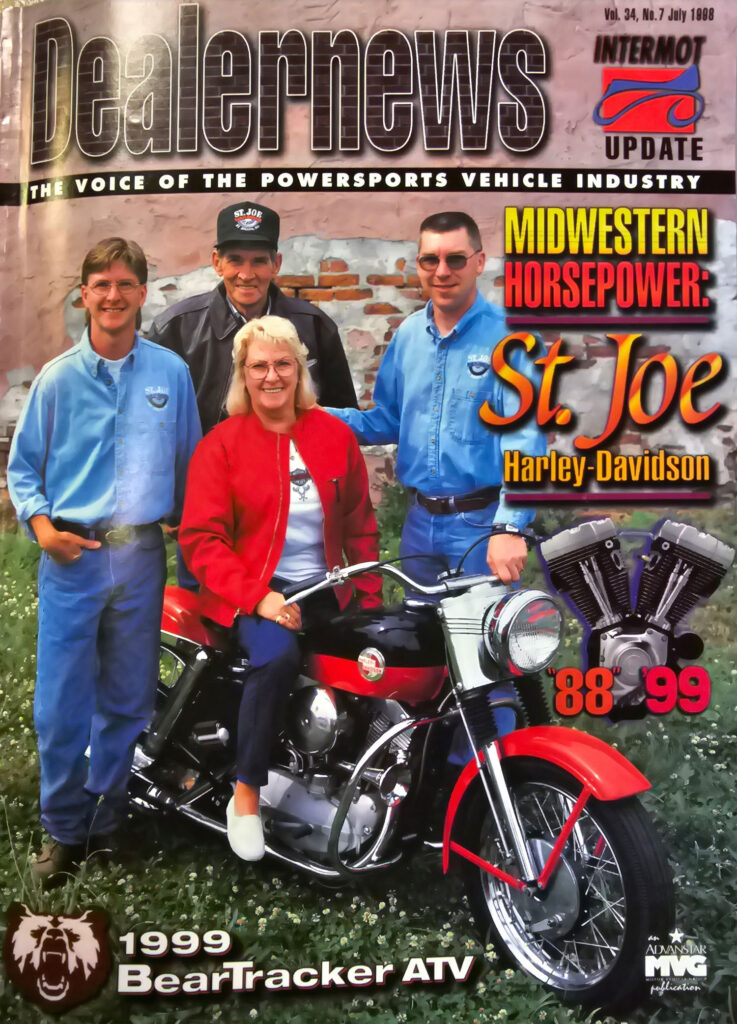 "It saved us, it really saved us in 1983 and '84." In 1985 and 1986, Harleys with the new evolution engine were so popular that people were waiting up to a year for a new bike. The wave continued, and by 1990, or '91, she explains, they finally phased out the other brands and were exclusively Harley once again. The turning point moment for her was a parts sale on the Kawasaki side. "One day, a guy came in and gathered a whole bunch of nuts and bolts, and I told him it was a hundred or so dollars, and he said, 'What?' I said, 'I'm sorry, I'm just reading what it says here,' and he said he didn't want them, and I said, 'That's up to you sir.' He threw them down on the counter and walked out, and I said, 'That's it. We don't need this.'"

Back then, she explains, a Harley tune-up cost about $35 while a Kawasaki was about $125. She explains that her sons, Mick and Clay, were tickled to death to carry Harley exclusively. Their relationship with Harley evolved in the coming years as the sales and parts volume increased.

But it wasn't all business. "I was spending seven days a week down at the old shop. I'd paint until midnight sometimes. When we weren't painting, we had a ride going somewhere. One day, I said, 'I'd like to get into something else,' and Dewey said, 'Let's get a horse.'" They got two horses. And Susie ended up serving as the Missouri Amateur Quarter Horse Association president. They bought land outside St. Joseph, a truck and trailer, and traveled to horse shows around the region in the '80s and '90s.

The deep dive into horse culture wasn't out of the blue for Susie. She was raised on her grandparents' farm on land where Worlds of Fun stands today. She remembers a time before electricity, coming home from school, rushing to do chores before the light faded, and finishing homework by lamplight. "I used to pick corn. We had the wagon, and I drove the horses while my grandpa, brother, and dad would pick and throw corn into the wagon."

What feels like a lifetime of technology later, in 2000, they moved the Harley dealership out of their humble downtown location and built a modern building on the South Belt highway, just off Interstate 29. Harley was eager for them to expand, even though the cost was significant and entirely up to them to shoulder. And now, in 2023, they sell about 60 bikes each month and have about fifteen people on staff. Customers travel from around the region to buy locally, and they also ship and work dealer trades.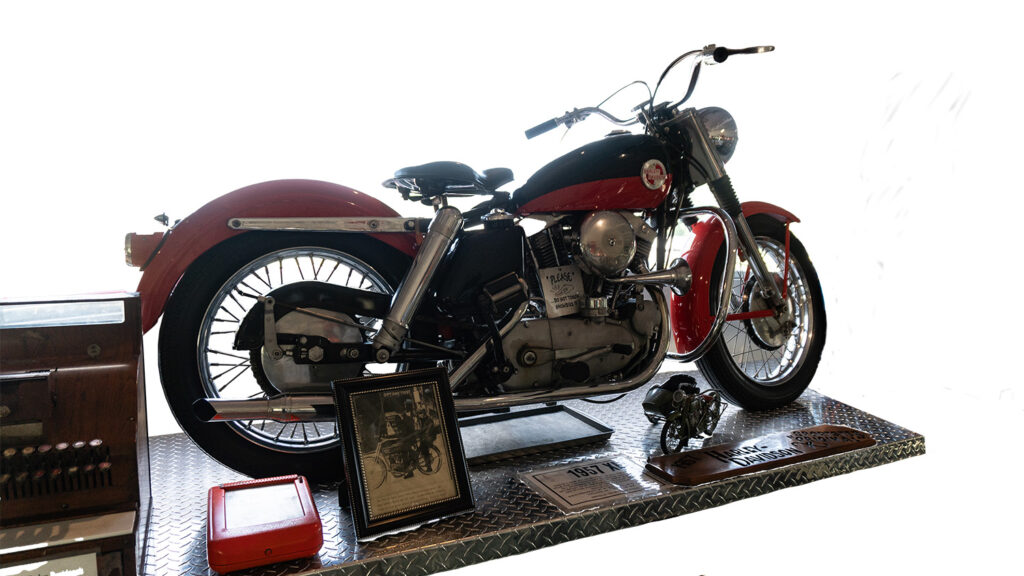 In the coming weeks, Susie, who was born in 1938 and graduated from high school in Liberty, Missouri, in 1958, will turn 85, and the business she started with Dewey, who passed away in 2021, will turn 55. She talks about the changes she's seen, from paper and cash to computers and credit card USB connections for mobile phones. Generations of customers (fathers, sons, and daughters) have come through her door since 1969, and bikes have gone from $1,750 to $20,000 and more. She smiles as she recalls her adventures and her family. The stories she tells, in her quiet respectful manner, fill the room with wonder just as the pictures and artifacts of a life well lived fill the shop. One of the first bikes they brought in on trade still rests on a platform above the front doors. She remembers it fondly.
"We got a 57 up there, the first year they made the Sportster, and we kept it. We couldn't afford to, but we kept it. A guy by the name of John Orr, I think was his name, he came in one day and traded it in on a Sprint. And we couldn't afford it, but we did it, and we managed to keep it. I painted it, and every bit of it is all original."

The other bikes they worked on over the years, she explains, were often described as St. Joe specials. And now, through the work of her children and grandchildren, those St. Joe specials will continue to roll out the door for many years to come.