Find Regular Joe coffee at Mokaska in St. Joseph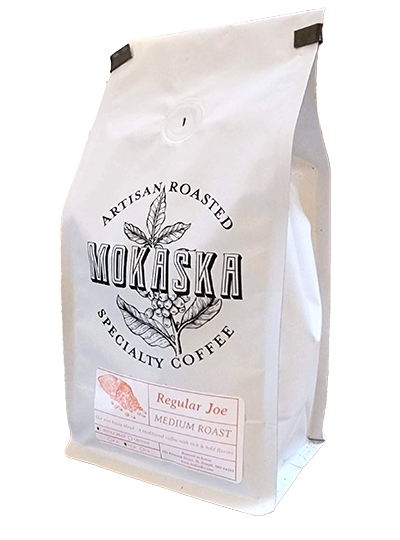 A historic building decked out with local flair, an outdoor courtyard, and a Regular Joe coffee blend, what more could you ask for? At least, that's how we feel about it. If you haven't visited this café and small-batch coffee roaster in downtown St. Joseph, Mo., you're missing out. The old building's charm will immediately lure you in, and the wall of illustrated coffee dispensers will bring a smile to your lips. Beyond the excellent food and freshly roasted coffee, according to their website, they offer event catering, a cocktail bar, educational demonstrations, and a groovy place to hang out.
The Regular Joe couldn't agree more with that last statement. So whether you're a St. Joe local or are on a journey from elsewhere, Mokaska is a "don't miss" coffee/café experience. And the Regular Joe blend, created especially for us, is a rich medium roast with a bold flavor. It's obviously one of our favorites, and we think if you try it, it will be yours, too. If you drop in and pick up a bag, send us a pic, and we'll include it in the next issue's mugshots!