Creating Art with Chris Fleck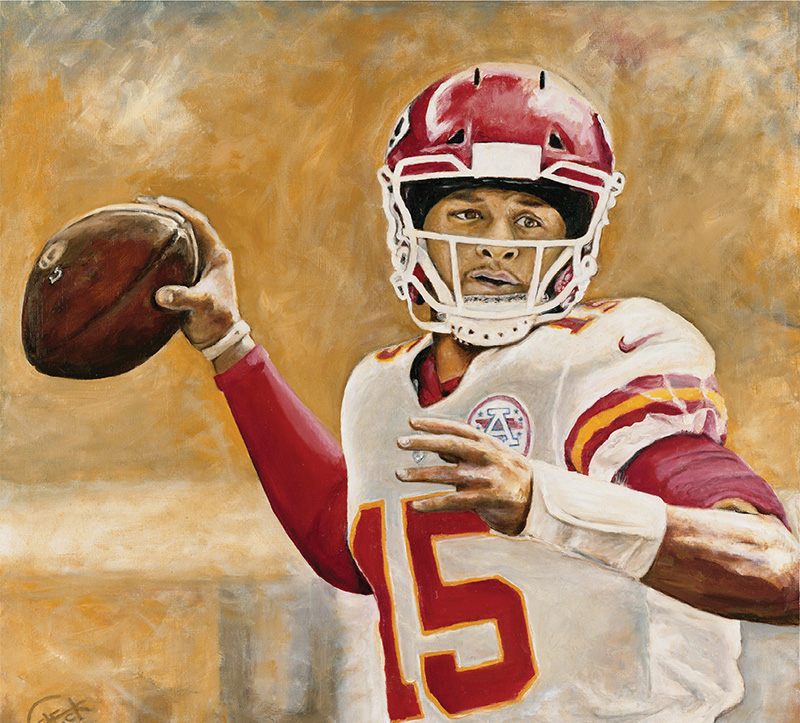 From Kansas City Chiefs murals and oil paintings to caricatures, commercials, and painting classes, Chris Fleck offers a buffet of creative services. Chris earned a Bachelor of Fine Art in illustration from the University of Kansas before moving on to work as a producer, writer, and director in broadcast media. In 2016 he started his own business, Chris Fleck Creative Services. In this issue, The Regular Joe caught up with Chris to explore his inspiration and creative process.
Regular Joe: Where do you draw inspiration from?
Even as a child, portraiture was my focus. I've always just equated it with art. Classically, Rembrandt has always been my hero. I've always been intrigued by the way he models three-dimensional images out of darkness (chiaroscuro.) I've also always been fascinated by caricature. Sometimes my serious works start out exaggerated, and I bring them back down closer to realism.

Regular Joe: What does your creative process look like?
I do a lot of research and try to find images that bring out the personality of my subject. And if it's a live model, I'll take a lot of photos. If it's a musician, I will listen to their music while I paint, and hopefully, the mood of their work will weave its way into mine.

Regular Joe: What is your favorite medium to work with?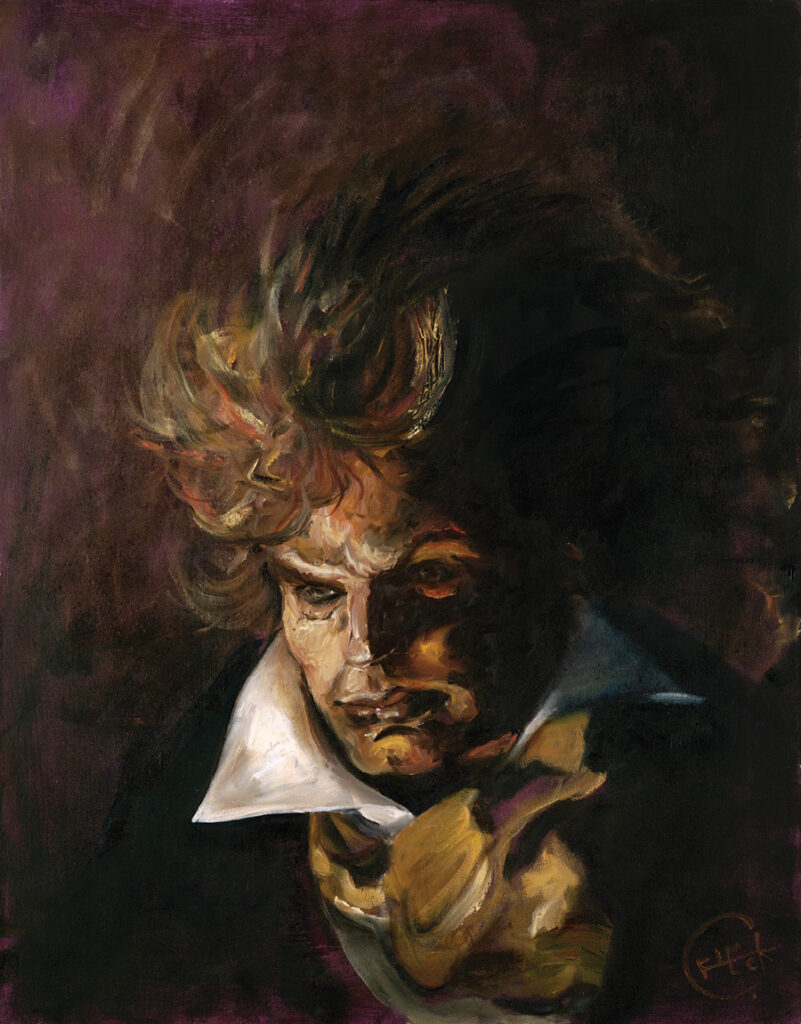 I have many. I think to be a good painter, you have to be able to draw. When painting, I also think like a sculptor, which helps me give my paintings depth. At least, that's the goal.
In addition to your website, where can people find your work?
I have a Chris Fleck Art Facebook page, Insta, Twitter and TikTok. The easiest way to find everything is my Linktree at: https://linktr.ee/chrisfleckart

Regular Joe: What is the best part of your job?
One time, when I was painting my grandmother for my mother's Christmas present, as the painting started to come together, I took a few steps back to see how it was coming along. Suddenly, I was looking at my grandmother, who had passed many years ago. I teared up. If I can do that for other people, I would say that's my gift. On top of that, I think it's a tie between creative joy and getting to keep my own hours. I don't come to life until about noon, no matter what time I get up, and I find myself sometimes painting until five or six in the morning. There have been times when the music was blaring in my attic studio, and I realized it was six in the morning, and I better try to get some sleep.
Regular Joe: If you weren't an artist, what do you think you'd be doing?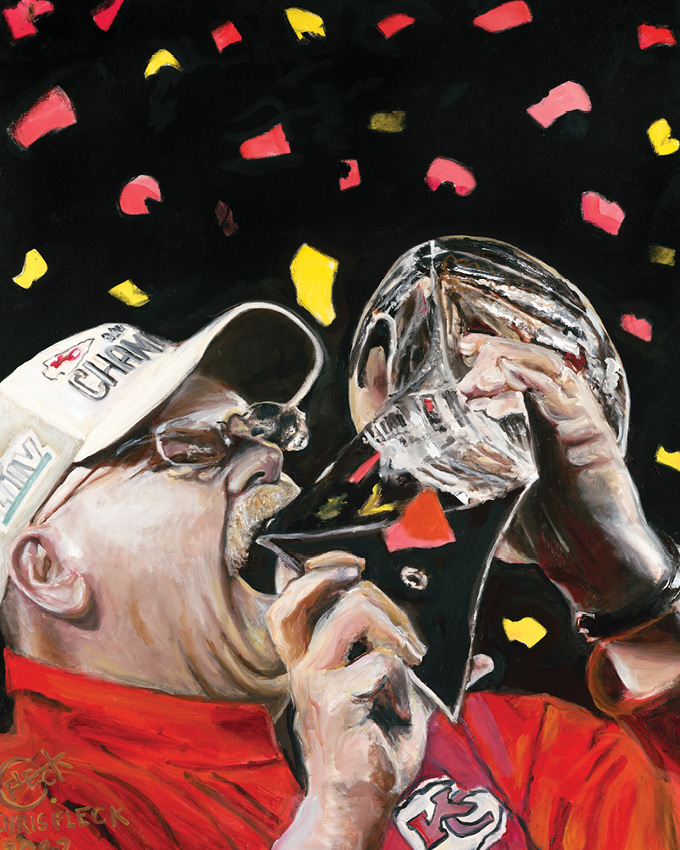 That's an interesting question because I'm a multipotentialite. I'm a branding coach, a writer, a videographer, a musician and I've done some acting as well, including standup comedy. I think most creative people have ADD. We've just learned to tie a rope around it and waterski behind it.
Regular Joe: What are you working on now? Any future projects you can share?
I have been contracted to paint a mural at Cup of Joe, the new coffee shop near the new Shoppes (in St. Joseph, Mo). I'm also currently painting a portrait of Andrew Breitbart. I tend to paint heroes of mine. In college, I did a series of caricatures in oil pastels of my favorite standup comics. I think I'm going to take another crack at it, but this time, paint serious portraits in oil.
Regular Joe: What advice would you give to aspiring artists?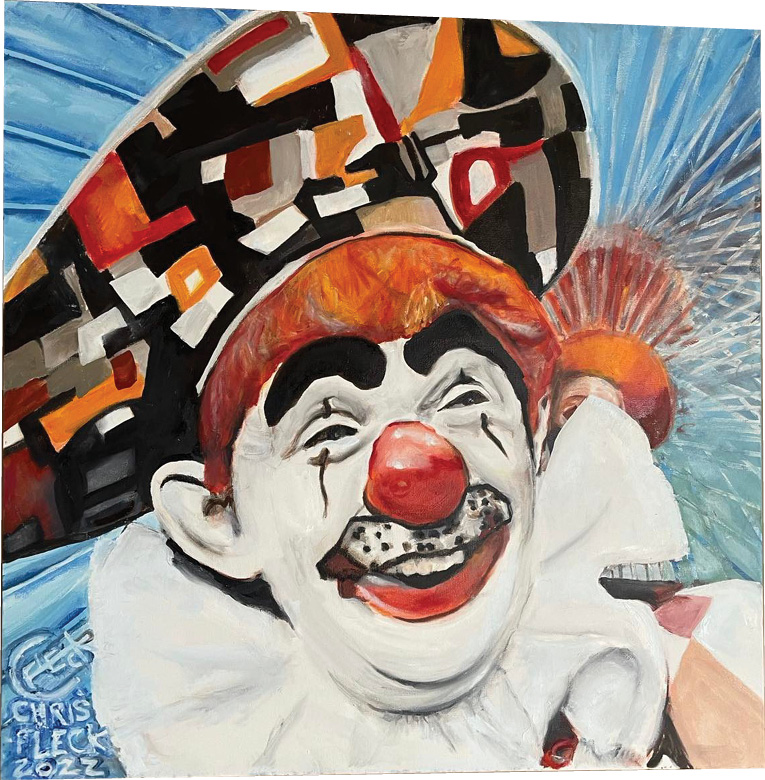 Paint and paint and paint and paint until you find your "thing," or whatever your medium is. The same can be said for sculpting, creating music, etc. I will leave you with the most important thing I learned while studying design at the University of Kansas. It wasn't in the classroom. It was graffiti in the hallway outside of the drawing studio: "Good art is like a good fart. People are moved. Bad art is like a bad fart. No one notices." – unknown.